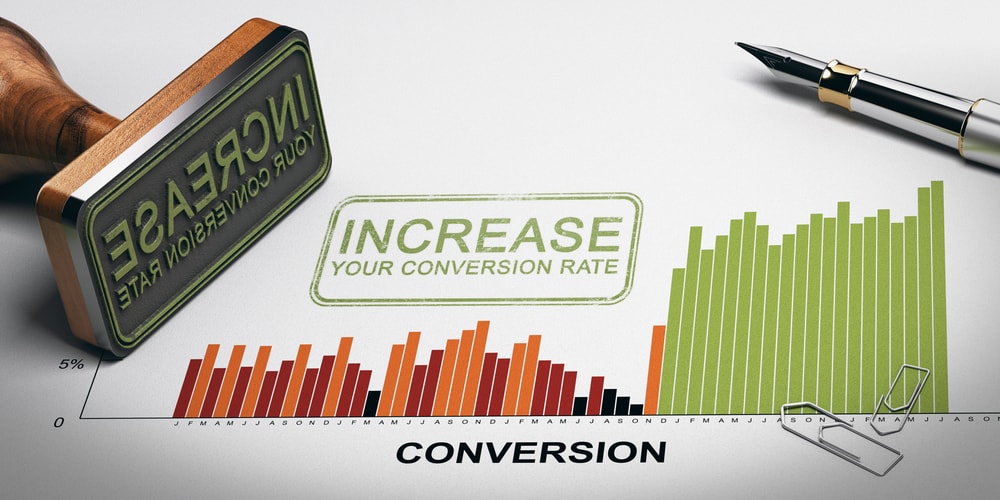 Did you know that 'What is conversion rate?' is one of the most searched for terms on Google. Understanding what your business's conversion rate is and how to improve it is key to business success.
If your business is running smoothly and your website is busy with traffic, it may seem as if things are going well. But if you're not converting that web traffic into sales, is your business thriving?
What is conversion rate?
Put very simply, a conversion rate is the number of people who visit your website who 'convert' by fulfilling the desired goal. This goal may be different depending on the kind of website you run, for example:
– What is conversion rate on an eCommerce website? Probably the number of visitors who make a purchase.
– What is conversion rate for a charity website? It may be wished that visitors will sign up to a mailing list or make a donation.
– What is conversion rate for tradesman's website? This will likely be the number of visitors who fill in the contact form or request a quote.
Knowing what your website's conversion rate is is key to assessing your website's success. Website visitors and traffic only paint half the picture. Having lots of visitors to your website doesn't amount to much if none of those visitors converts. In other words, conversions equal success.
How to increase your conversion rate
The modern consumer is a canny shopper, likely to shop around before making a purchase. To increase the likelihood that visitors will choose your website to convert on, it's important to focus on making improvements in three main areas. These are the service or product you're offering; your website; and your customer service.
Great quality, good prices
When it comes to the service or product you're offering, the key is to offer quality without charging a small fortune. If your product or service isn't selling well, try adjusting the price point a little and see if you get more interest at a slightly lower price. You can also offer free downloads, free shipping, coupons or deals to online customers. These may entice some fence-sitters into converting.
Invest in your website
Website visitors won't convert if they find navigating your website a struggle, or if your website looks old or out of date. Make sure your website is easy to use and offers a quick and easy path from the landing page to the checkout. ECommerce shops should always include clear descriptions of their products so that customers are left in no doubt about what they're purchasing. Adding videos of your products, tutorials and reviews can also help paint you as putting your customers front and centre.
It's all about customer service
Good customer service can make or break a sale. Offering live chat software and easy to find contact details for your business opens up a line of communication between you and your website visitors. Customers are more likely to trust a company they can easily contact. What's more, small queries and doubts can then be cleared up before a purchase is made.
Final Words
Increasing your conversion rate in 2018 is all about working with the technology at your disposal. The web isn't your regular high street: your website is competing with websites around the world for consumers' custom. Every detail counts.