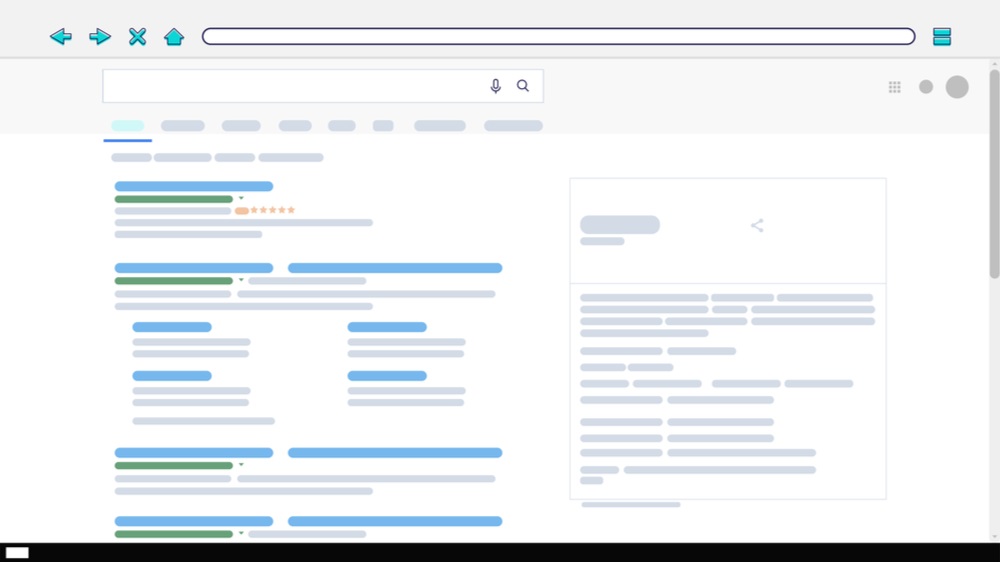 Looking to boost traffic to your website? No shock there.
A sure-fire way to get a load more clicks to your site is through the development of your on-site content.
While this tactic is nothing new (you may already have a bank of sparkling, constantly refreshed content driving traffic to your website – lucky you), the way in which you structure your content can have a dramatic impact on how well your site ranks in SERPs. This is where featured snippets come in.
What is a featured snippet?
The way we search online is changing.
No longer are we entering one or two keywords when searching online. As Google becomes more and more sophisticated (and larger – it adds around 10k websites to its database every single day), the way in which we search has changed too. In the digital age, we expect exact results within a fraction of a second, every time. Google understands this, and as a result, has developed its featured snippets function.
Simply put, featured snippets are selected searches that appear at the top of Google's organic search results (below PPC).
A featured snippet is returned when the content on a particular website accurately answers the searcher's question. The aim of a featured snippet is to answer the searcher's question right there in the SERPs, without needing to click through to the website to access the information.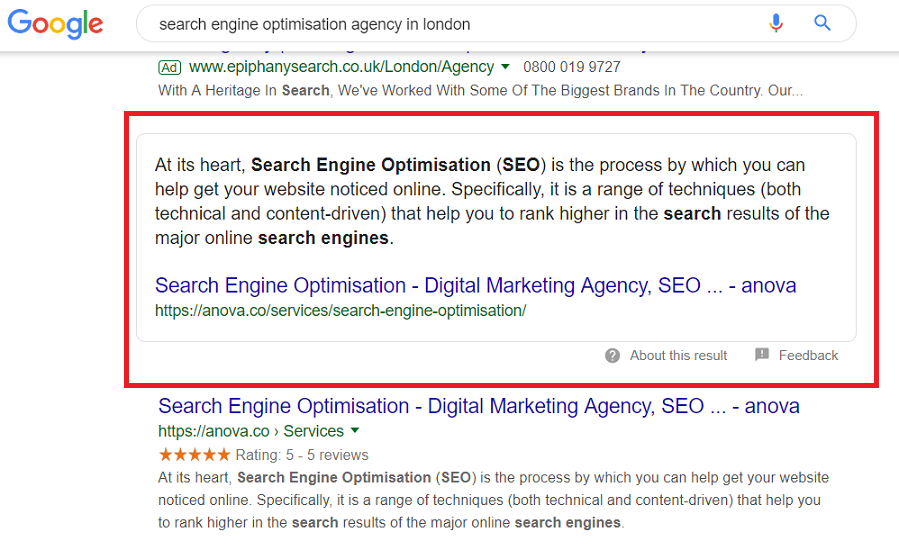 Why are featured snippets so important?
There are two main reasons why featured snippets continue to be the 'holy grail' when it comes to SEO-driven content.
1. The CTR (click through rate) is much higher for a featured snippet than it would be for a traditional position 0 ranking. A featured snippet typically gets around 8% CTR, while position 0 just 2%.
2. It builds brand awareness and trust. As searchers begin to see your brand providing the top answer on Google, a positive shift in brand awareness begins to happen. Users are far more likely to trust a website that has been favoured by Google over one further down in the SERPs.
There are several types of featured snippets:
1. A paragraph that accurately and succinctly answers the searcher's query
2. A bulleted or numbered list
3. A table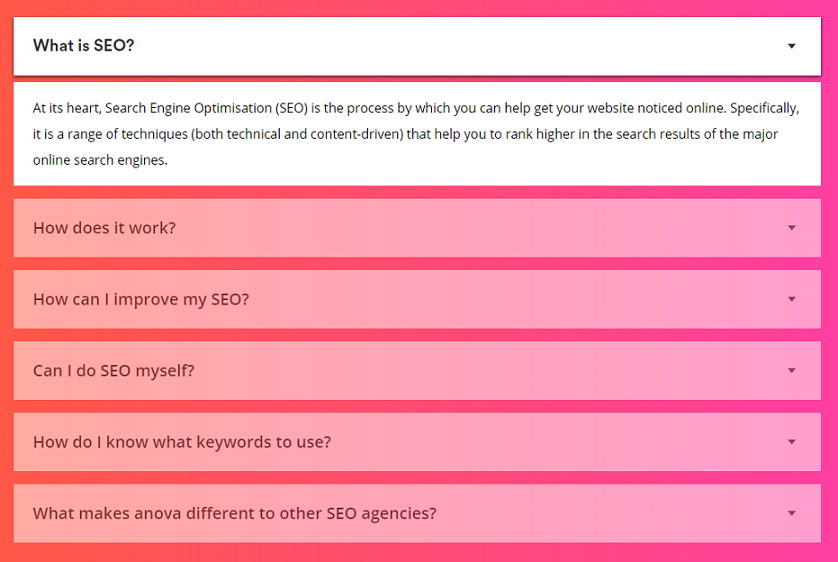 How to optimise for Google's featured snippets
There are several ways to go about getting featured snippets for your website.
Firstly, you'll want to conduct an in-depth analysis of your website's current SEO performance, both its content and its technical make-up. You'll need to ensure your website is already performing well for the basics, before you further develop the content. Research shows that featured snippets are typically handed out to websites already ranking between 0 and 10 in SERPs, so aim to get there first before moving on.
Once you're in a good place, turn your attention to your content. The competition for featured snippet status is tough, so we recommend going after 'low hanging fruit' (that is, long-tail keywords) first to boost rankings. Here, you'll want to develop content that accurately answers a searcher's need. The way in which the content is laid out will also play a key role in your content's performance. Look to include bulleted or numbered lists where possible, and keep intro text to a minimum.
Remember, it can take up to three months to see the results of your hard work. Google typically indexes a site every 6 weeks – 2 months, so be patient. You may not see results straight away.
Congratulations, you've got your first featured snippet! What next?
It can be tempting to sit back and relax once you've gained a featured snippet or two. However, as with all on-site optimisation, the work is never done! You'll need to work hard to maintain your featured snippet status.
A good way to keep on top of your performance is to carry out regular SEO analysis. Find out what your competitors are doing, and ensure you're one step ahead of them. Continually develop and publish new quality content in order to stay at the top of your game (and the SERPs!).
If your content doesn't answer questions, it won't get into the featured snippet
"I've optimised existing content and published new content, yet I can't seem to get a featured snippet."
This is a common complaint from digital marketeers and SEOs alike.
The key to unlocking featured snippet status is to ensure your content accurately and concisely answers a particular question (your SEO tools or SEO agency will be able to point you in the right direction in regards the type of questions you should be answering).
A good way to develop feature snippet-rich content is to think like a Google user. When searching for an answer, you're not going to want to read through a load of waffle before getting to it. When structuring your content, ensure it is clearly laid out, uses simple language and is written in the active voice. Place the answer at the top of the page (above the fold).
Use your SEO insight to ensure the content is not only covering the right topics but is optimised accordingly – don't be tempted to keyword stuff, this can sometimes work against you.
Finally, look again at what your competitors are doing. If you find a key competitor has already gained a featured snippet for your particular query, don't be disheartened. Simply think about answering a slightly different question. After all, the way in which we use google differs from person to person.
Still having trouble getting a featured snippet?
If you'd like a little help in developing SEO-led content for your business, contact anova today.
We specialise in all aspects of digital marketing, helping businesses thrive by enhancing their online presence.
Our team of SEO experts will work with you to ensure your website is outperforming competitors, making useful recommendations to improve your SEO performance fast.
Give us a call to see how we can help you.