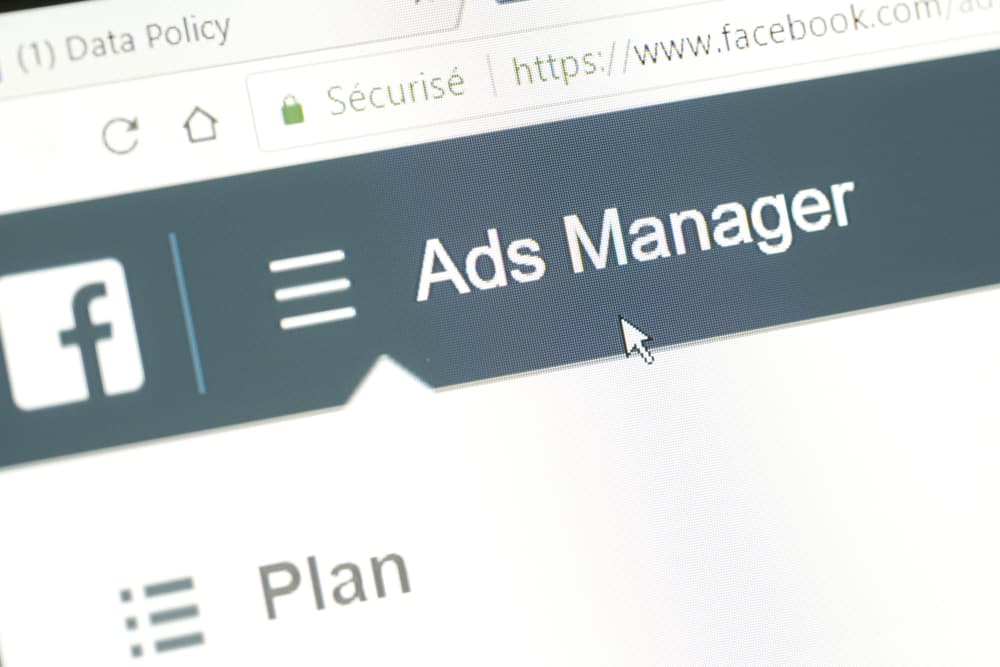 The Facebook Ads Manager is a powerful tool for any marketing division and, since its introduction, Facebook advertising has become a more streamlined affair.
Historically, running a promotional campaign through Facebook was an intimidating prospect for the inexperienced advertiser, one riddled with complications and inconsistencies. Now, with the more user-friendly Ads Manager, Facebook hopes that it has eliminated this problem.
Whether or not this is true is still a question worthy of debate, but there is no denying that Facebook Ads Manager offers much in the way of diagnostics, metrics, and other tracking options that allow you to see the impact your campaign is having in real life.
And really, as the largest and most successful social media platform in the world, your brand needs to be seen on Facebook. The most effective way to do this is to take advantage of the ad manager Facebook provides its business customers.
We've put together this handy, step-by-step guide to using Facebook Ads Manager effectively. We will say at the outset that this guide does not include every single advertising option available; Facebook Ads Manager is a robust application and one that likely holds a few surprises even for veteran users.
What this guide does do is help the less experienced operator make the best use of the ads manager Facebook has released, and maximise potential return on investment.
The Essential Guide to Facebook Ads Manager 2018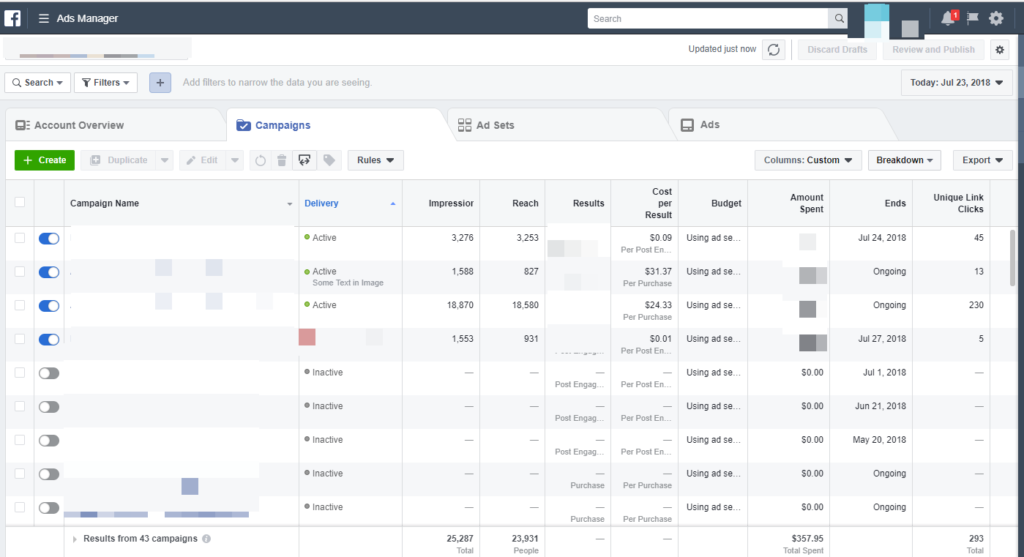 With its ads manager, Facebook has opened the door to a wealth of marketing and advertising options. What's more, it has opened it to everybody, from the smallest individual trader to the largest multinational conglomerate. But first, we need to start the ball rolling.
Access Facebook Ads Manager
What you'll need to do first is head to the ads manager. This will bring up a list of the accounts you run, from which you select the particular one you're looking to manage. If it's your first time using the system, take the opportunity to familiarise yourself with the layout, and to get a feel for some of the tools and options you have available to you.
Among the more important parts of this initial page, there should be a button allowing you to create a new advert, a box showing your total spend for seven days, and a table detailing various data points and metrics from your most recent campaign.
Now that it has paired Power Editor with Ads Manager, Facebook has helped to streamline the advert creation and monitoring process. Previously, you would have had to toggle between the two, amending your ad in one, and monitoring its progress in the other. Now, both essential functions are housed together in one advertising tool.
Create your advert
Our next step is to click on the green button in the top left corner marked "Create Ad". This will present you with a number of options for advert creation. Facebook Ads Manager wants to know the purpose of your advertising campaign and will tailor the rest of the process to suit, guiding you towards an advertising solution that meets your requirements.
The objectives currently available include brand awareness, reach, local awareness, engagement, traffic, lead generation, video views, store visits, conversions and product sales. Choosing the right objective for your campaign is hugely important, as it can impact on the further options provided under Ads Manager, Facebook cleverly adapting the ad set up dependant on previous choices.
There follows a step-by-step creation process to help get your new advert up and running. A useful option is that of creating a full advert campaign from scratch or creating what Facebook Ads Manager calls a campaign shell. These shells are ideal if you know that your demographics for future campaigns aren't likely to change, only the content of the ad itself. Any time invested here will be rewarded tenfold on your second, third, and fourth campaigns… and beyond.
Don't worry if you don't get everything exactly right at this stage. One of the tool's strengths is that you are able to go back and amend your campaign at any point during the set-up process, and even once it has gone live. It's a simple matter of hovering your mouse pointer over the name of the campaign and clicking on the edit icon. Once this is done, you're free to change not only the content and copy but also the financial settings and demographics.
Measurements
An advert is only as good as the impact it has on your brand, whether that be in awareness or sales, but luckily Facebook Ads Manager has a host of tools for monitoring the success of your ad campaign. It tells you how many people were reached by the advert (that is, saw it in their timeline), how much of your budget was spent on it, how many people clicked on the link, how many shared or liked it, and so on.
Once a potential customer clicks on the Facebook ad, it takes them to your own website, and those measurements cease. However, thanks to a handy bit of code – the Facebook Pixel – you can now keep track of things like purchases, sign-ups, and lead conversions from the comfort of your Facebook Ads Manager desktop.
The Facebook Pixel is a small bit of code that you implement into the header tags of your website, or incorporate into your app code. It simply forms a bridge between your Ads Manager and your own site, allowing you to track user actions even once they've left Facebook behind them.
If you're unsure how to implement the Facebook Pixel code, have a word with your web development team or your web manager.
Data analysis
The Facebook Ads Manager allows you to change your ad settings on the fly, in order to adapt to how the campaign is performing against your preferred targets. However, this is only useful if you have properly analysed the metrics presented by the Ad Manager Facebook has provided you with.
In order to improve your advertising strategy and the results it brings in, it is essential that you analyse the provided data on a regular basis.
While Ads Manager can provide you with a high-level overview of all your adverts' performances as a whole, you should really take the time to drill down into each campaign, even each individual advert, to learn as much about the audience demographics as you can. From here you can tell just how users are interacting with your adverts, as well as how successful your campaign is compared to others.
There is so much information on the data pages that it can be daunting at first, but Ads Manager helps you out there, too. It generates useful and user-friendly graphs, giving you an instant, visual representation of your ad's performance. This is a crucial feature, as it allows you to instantly spot common trends that could well be useful in constructing future campaigns.
Reports
This is all well and good for tailoring your campaign directly, but what if you need to share that data with your management team or with your work colleagues in order to get their buy-in?
Fortunately, when designing their Ads Manager, Facebook thought it prudent to include a host of export options. From high-level overviews, to the minutiae of any given campaign, you can present the data in a variety of formats, including the popular Excel and CSV formats.
For long-running or serial campaigns, you can set up Facebook Ads Manager to schedule an automated report on your campaign's progress, be it monthly, weekly, or even daily.
Mobile management
With so much business being conducted on the go, Facebook has sensibly released a mobile version of their Ads Manager, giving you full and detailed access to your campaigns including the ability to make edits and export data. It will even allow you to create a new campaign from the app, so if a sudden surge in interest prompts a new campaign strategy, you can run with it wherever you are.
In summary, your Facebook Ads Manager tool holds a lot of power in terms of running a successful social media campaign. That said, it is only as useful as the effort you are prepared to put into it. Virtually everything on there can be tweaked, edited, and amended to make your marketing more efficient and effective in the long term; don't be afraid to take advantage. In what other medium are you able to monitor spikes of interest in your advertising campaign, and recalibrate to focus on that demographic in real-time?
Acclimatise yourself to the program itself, as well as the mobile version. Get a feel for the data it presents, and the format in which it presents it. Minor adjustments to a Facebook campaign as it progresses can see lucrative returns as you hone in on an advertising strategy that works for you and your brand.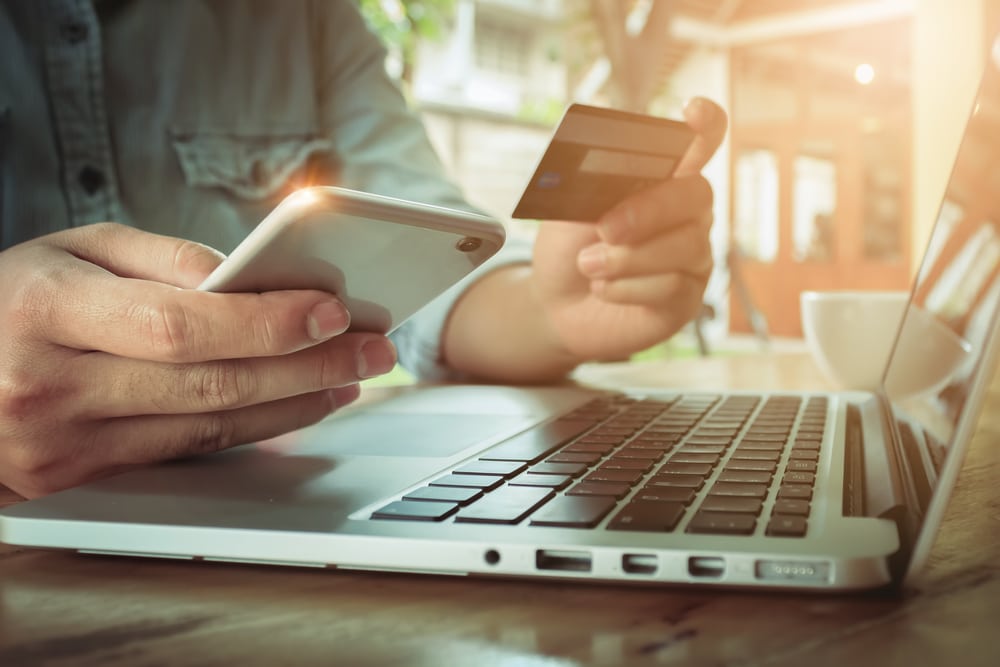 anova has years of experience working alongside hundreds of brands and companies to manage their Facebook advert accounts and can help to generate a higher rate of return on Facebook advertising spend. For more information and a consultation, contact anova today.