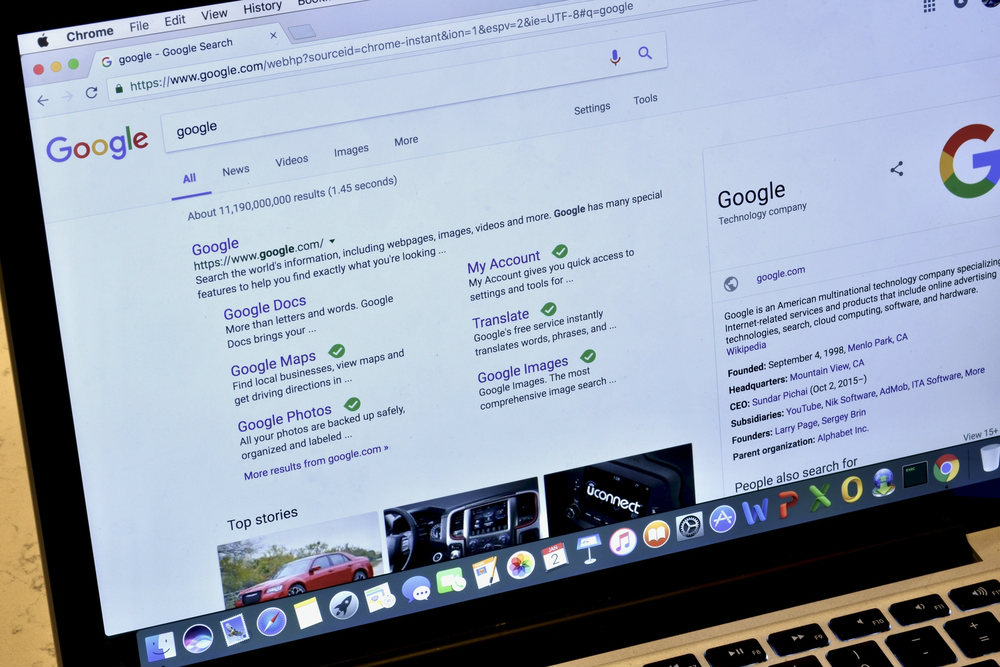 Making yourself stand out on Google rankings and search results is a top goal for many businesses. This is especially true for those who run solely on digital marketplaces. You've likely seen one of Google's more innovative features on the right-hand side of your search window. But have you ever actually considered how to harness the power of that information for yourself? Here's how you can.
What is Google's Knowledge Graph?
Google released the knowledge graph in 2012, an innovative feature combining images and text. Providing a better user experience, it's Google's way of connecting information. Accessible, practical and useful, this graph is a database that collects information from around the web. This data is then transformed into a more visually striking form to provide information quickly and effectively. Examples of this include list sliders, nutritional information or image carousels.
For businesses, especially local ones, knowledge graphs can be an integral part of attracting customers. Google uses places, data movies and more to create structured data that is instantly accessible. It does this by using algorithms to interconnect relevant details. Anything from the information about local stores to product prices, biographies to Wikipedia descriptions are included.
Claiming your Knowledge Graph panel
If someone uses the Google search engine for information related to your business, you want the knowledge graph panel to be relevant to you. But it isn't as simple as just paying for or purchasing your own. Google uses AI to collate and create the panels based on information available online. If you search for your business name right now, it's likely certain information will appear. Whether this is accurate or not is a different thing altogether.
So, how do you claim your knowledge panel? If one for your business already exists, the next step is getting verified. To achieve verification, you must first have a google account. From this point, you can click 'claim this knowledge panel' underneath the information provided. Click through to 'get verified', and you can provide details and identification allowing for your panel to be officially claimed. This includes a formal identification document, such as a passport or driving licence.
To get your content in the Knowledge Graph, you need to be or develop into an authority on your subject.
You need to write quality content by finding out what people search.
Keyword research, optimising your website and being mobile-friendly is necessary.
Use structured data to mark up essential elements of your site; this can help Google to understand what it is all about. Structured data in the form of Schema.org is becoming increasingly important.
Register your site with Google Search Console and My Business.
If you are a well-known person or if you own a known company, you can claim your Knowledge Panel. Remember, you need to verify yourself to can edit the contents of the panel.
Anatomy of the Knowledge Graph
Ultimately, Google will decide whether or not it'll show a knowledge panel in the search results. Of course, there are some techniques to boost your chances of Google displaying a knowledge panel with the information you want to show to the world. A Google knowledge graph is made up of several distinct components. This is found on the right-hand side of the search engine. The size of the panel varies depending on the amount of information available. As standard, the panel will feature:
A collation of imagery related to the subject, person or business
A sub-categorisation of the information e.g. Rock Band, City, etc.
A link to websites or apps on which the service/business/content is 'available on'
A short description
Information about the location and other relevant details, as well as a 'did you know' in some cases
Details of popular products or content
Social media profiles
A 'people also search for' section
This information may vary depending on the purpose of the page. As well as the amount of information available. However, this is the basic anatomy for Google knowledge graph panels.
Below is the Google Knowledge Panel for the search "London", Google will display location information, weather data and other information useful for commuters.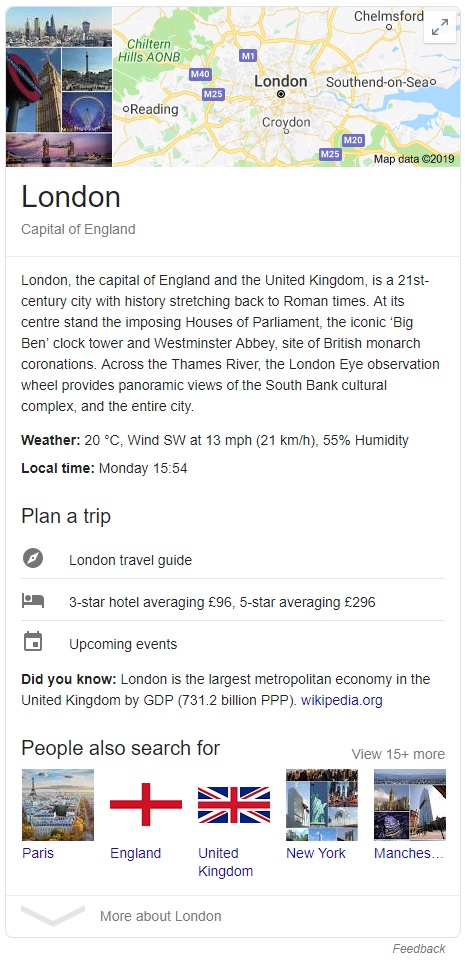 Examples of search results
Google has continued to roll out the knowledge graph across its many search results. So there are plenty of examples available to view. Some of the top searches with relevant examples in various forms include:
Each of these search results offers unique examples of knowledge graphs. From those that can be altered by company owners to ones that are generated through AI by Google.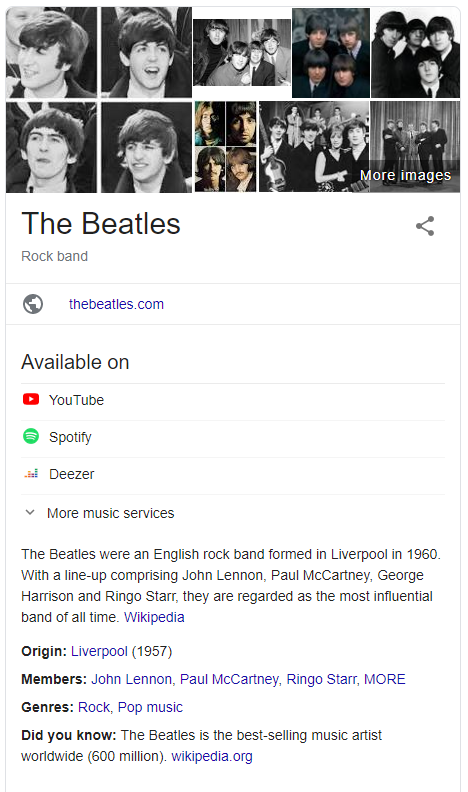 Getting your content to display
How can you get your content to display on Google? If you already have claimed your knowledge graph, it's as easy as claiming and editing the existing content. But for businesses without a pre-existing graph, it's a bit more complicated. Firstly, you should focus on meeting the standards required by Google. This includes creating human-friendly content and providing all relevant information online. Creating social media profiles can also support this.
It may take a while to achieve a knowledge graph, but once you get there, it is more than worth it. Once Google has generated its AI version for you, the process is the same. Create an account, get verified and claim your knowledge graph. From there, you can change the content and display what you want via your knowledge panel account.
Conclusion
For businesses looking to attract more customers from the Google search engine, knowledge graphs are vital. They offer those searching for something convenient access to information and helps your business to stand out. If you're wondering 'why does no-one click through when they Google my business?', These panels are the answer. Claim yours, and provide your customers with all the information they need today.
Related article: How To Write Kick-Ass Content That Boosts Your Ranking