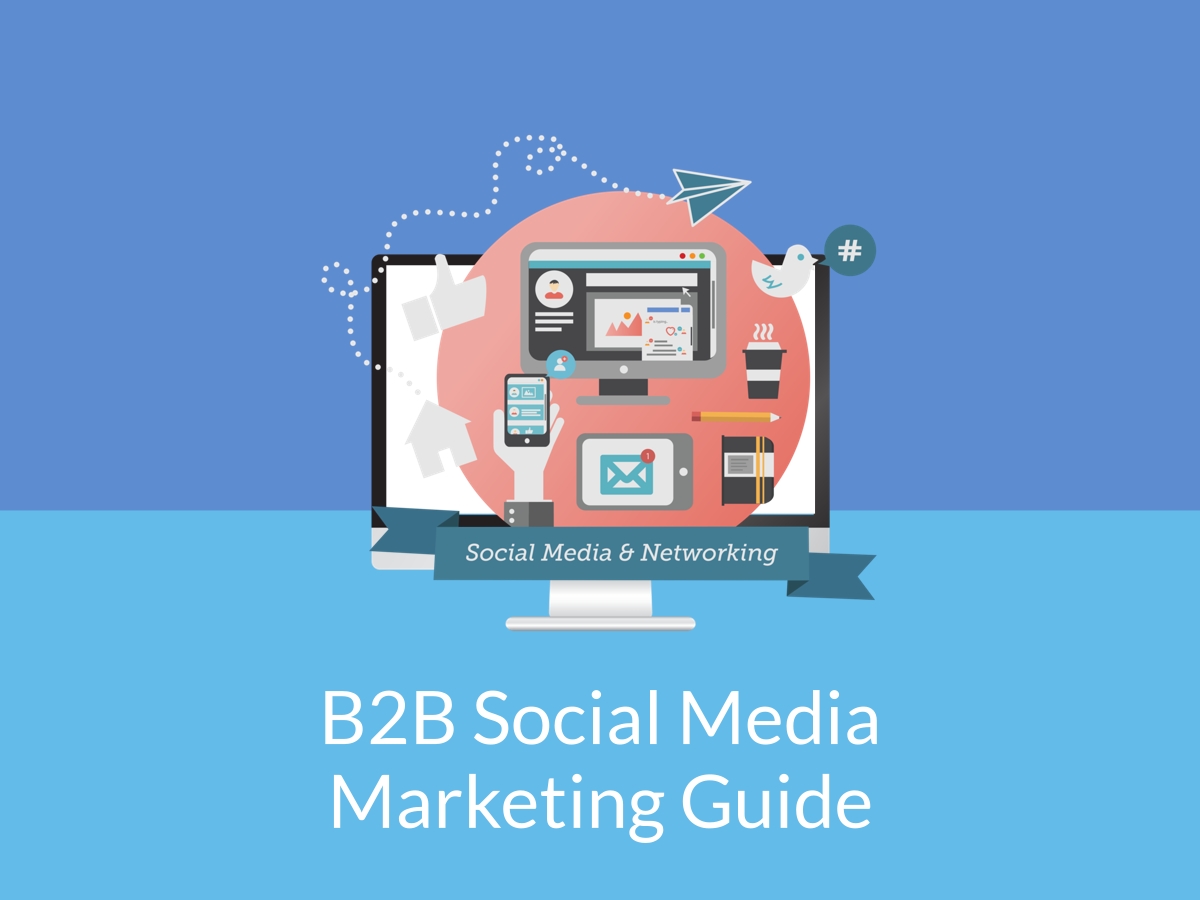 Though social media has long been thought of as a conventionally B2C medium, it can be incredibly beneficial for B2B brands as well. In fact, with over 83% of B2B marketers utilising social media, it has become the most popular B2B marketing tactic in use. Additionally, "75% of B2B buyers and 84% of C-level or vice-president level executives use social media to make purchasing decisions." If your business is not already taking full advantage of social media, now is the time to integrate it into your marketing strategy.
The following article will cover some important things to take into consideration when optimising your social media approach. 
1. Remember that your field shouldn't hold you back
Every business can leverage social media to their advantage, provided it's done right. Whether you're a food supplier, a software provider, a textile manufacturer, or one of the numerous other business to business companies, social media has something to offer you.
Take for example the pharmaceutical company Novartis. Despite not having a traditionally social-media-friendly brand, they have built a strong following through great content. Boasting over 38,000 Instagram followers, Novartis posts employee profiles, customer stories, and behind-the-scenes footage, and creates clever hashtags to help engage users.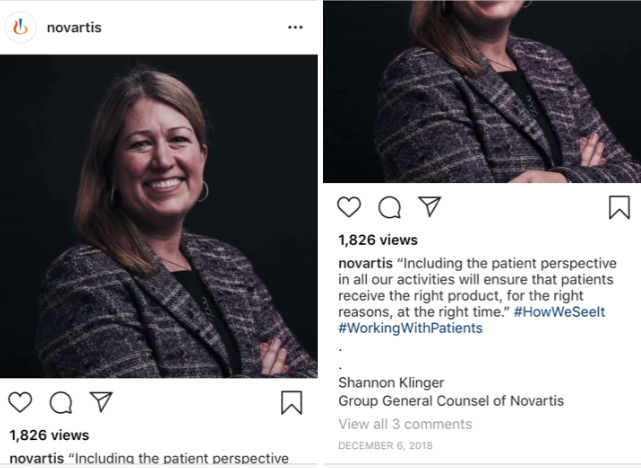 Source: Novartis Instagram
2. Choose the right platforms
Not all social media platforms are created equally. Over 89% of B2B marketers use LinkedIn, 77% use Twitter, and 76% are found on Facebook. Consider your target audience when creating your business profiles and ask yourself: which platform will best connect me to the people I want to reach? LinkedIn is the most popular platform for B2B companies, responsible for almost half of their relevant leads, but that doesn't mean that the other platforms aren't beneficial in their own right.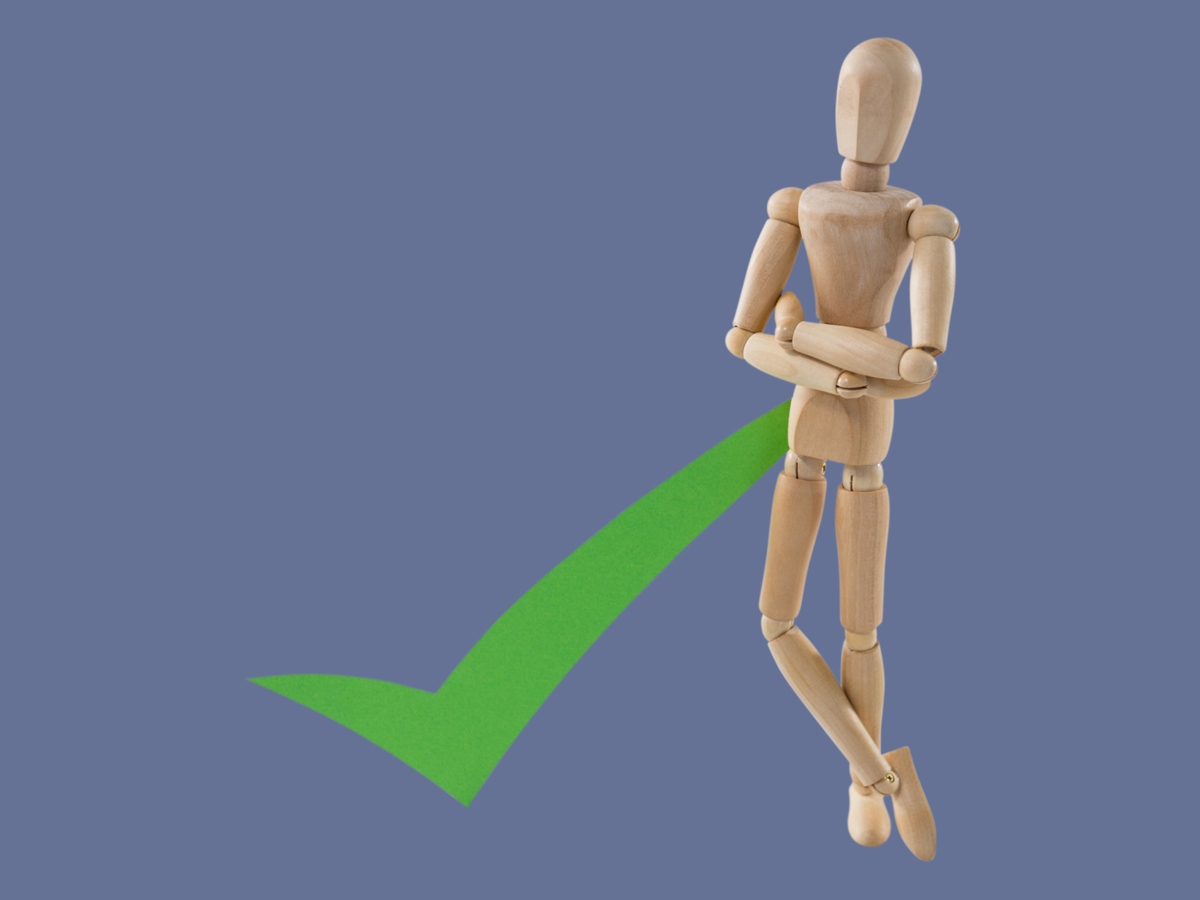 3. Clearly define your goals
Decide what is going to determine success for your B2B brand on social media. Are you trying to increase the traffic to your site? Gain more leads? Expand your reach? Once you have these figured out, choose the metrics by which to measure your results. These will not only help you conclude how successful your efforts have been but will assist you in determining ROI.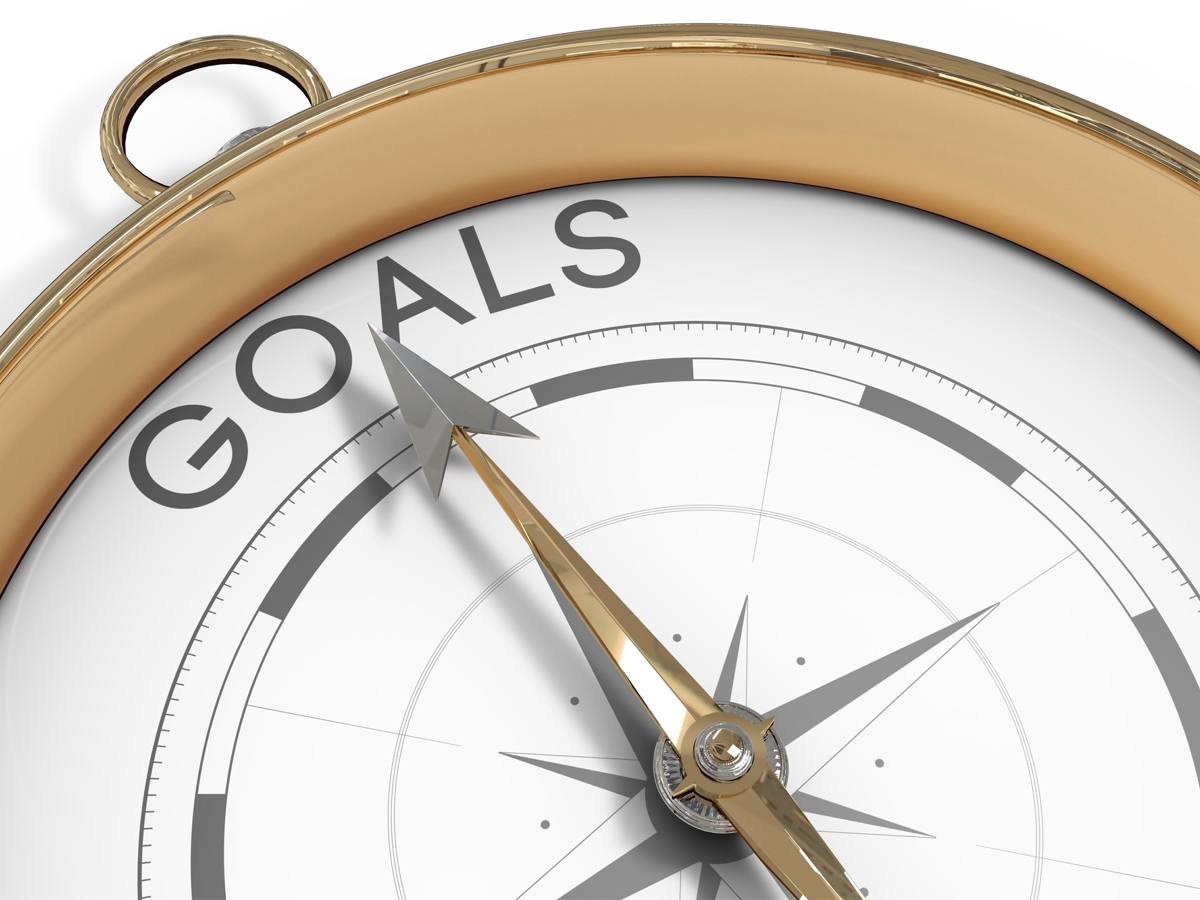 4. Listen to the conversation and keep an eye on your competitors:
Before jumping into a B2B social media strategy, take some time to test the waters and acquaint yourself with what others in your field are doing right, and wrong. This will help mould your own approach and give you a competitive advantage if you can learn from their mistakes.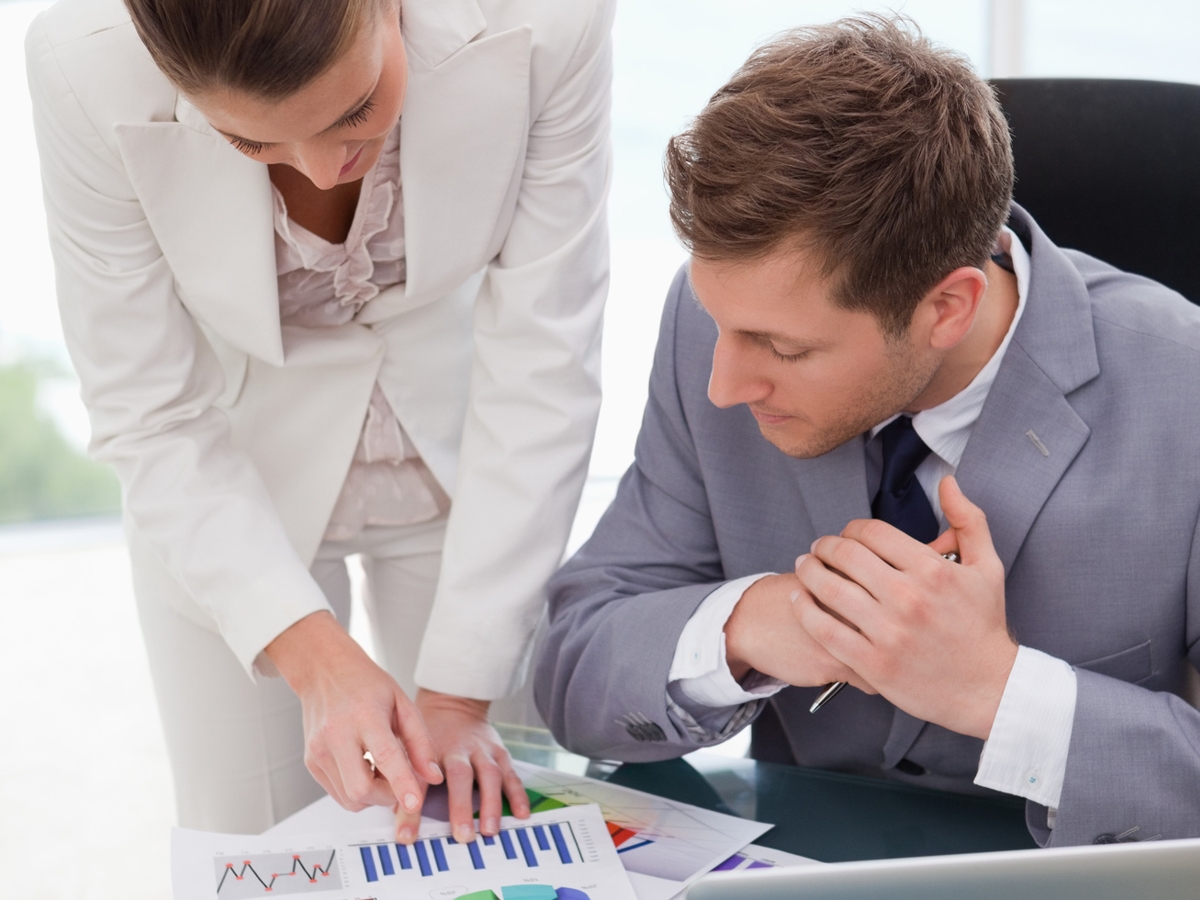 5. Post content your audience will like
For B2B brands that may not naturally have the most social-media-worthy content, the trick is to make it about your audience, and not just your business. Stay away from being self-serving, and instead determine what those who follow you would like to see. Give value to your audiences with useful and engaging posts. This will help your business distinguish itself as a thought leader in its field. Ask yourself: if I didn't work for this company, would I look at this post?
Inbound marketing management company HubSpot gives followers valuable content across their profiles by posting interesting facts and statistics, timely pop-culture references, engaging experiments, thought-provoking discussions, and helpful business tips. For example, on their Facebook page, they hosted a debate about whether books, movies, or audiobooks were the best format for obtaining information. Their Instagram includes inspirational quotes from minds such as Steve Jobs, Jeff Bezos, Yoko Ono, and Mahatma Gandhi, and tips regarding brand marketing, brand management, and other topics important to their client base.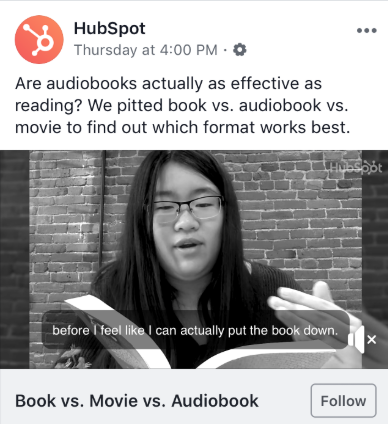 Source: HubSpot Facebook
6. Use employee advocacy in your strategy
Using your employees to help market your B2B brand is a wise move. Not only does content shared by employees receive 8 times the engagement than content shared via brand channels, but leads developed through employee social media marketing will convert, on average, 7 times more frequently than other leads. Employee advocacy takes many different forms, and when it comes to social media, we suggest asking your employees to post recommendations of your products and services on their personal profiles and help generate positive exposure by sharing their personal stories on your brand's profile pages. 
Marketing automation platform MailChimp knows the value of employee advocacy. Their Instagram profile features a variety of their employees taking users on a journey through a day in their lives. These personal stories help audiences connect with the heart of the brand while seeing some of Mailchimp's products in action.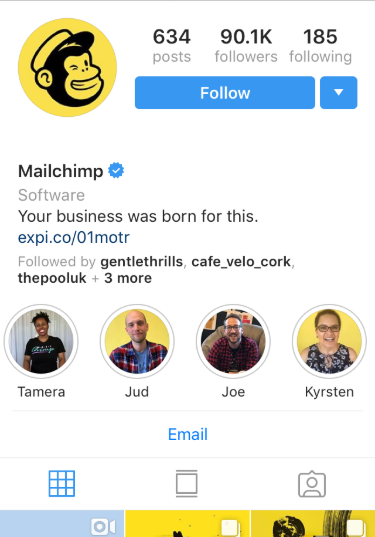 Source: MailChimp Instagram
7. Add clear CTAs on your profiles and posts
We all know how important a clear Call to Action (CTA) is on your web pages, and the same goes for your social media profiles. Use your CTA to direct your audience towards completing a specific task. Perhaps you want those that visit your profile to sign up for your newsletter, visit your website, or complete a brief survey. Whatever your desire, say it loud and say it proud!
For example, as soon as you navigate to IBM's Facebook page, one of the first things you see is a button that says "Learn More." This is IBM's CTA, and the button directs visitors to a webpage with recent company news and information about their products.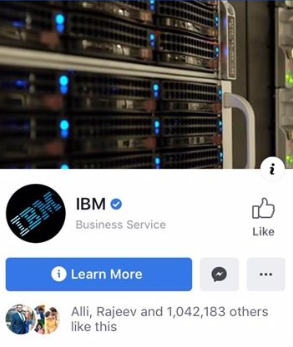 Source: IBM Facebook
8. Invest in paid advertising
Whether you're a B2B or a B2C company, paid advertising is an excellent way to get your brand noticed. LinkedIn paid advertising is an especially appealing option for B2B companies, and LinkedIn's paid advertising can be done in the form of sponsored content, Sponsored InMail, and classic Text Ads. We believe that sponsored content is a particularly effective LinkedIn advertising option, as it can provide value to your clients while helping to establish your brand as a thought leader in its field.
Adobe, Hubspot, IR, and VistaVu are just a few examples of companies that have advertised on LinkedIn and achieved great results.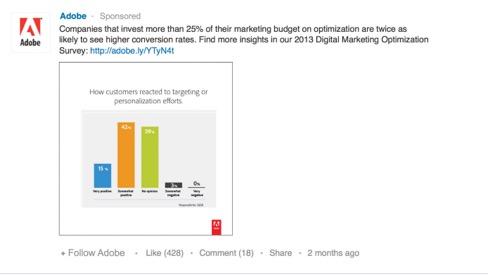 Source: Adobe
Embarking on a social media strategy for your B2B business can be intimidating at first, but once you find your stride it will prove extremely beneficial for your brand. If you're looking for help and advice on your exciting digital journey, contact the experts at anova today!
Ellan Dineen is the Marketing Associate at Design Wizard. When she's not hard at work in the Marketing Department, Ellan can be found with a book in hand and a podcast in ear en route to foreign lands. With a Masters in English and Diploma in Social Media Marketing, she knows the importance of staying up-to-date with the industry's latest trends and insights and is keen to pass these tips on to her readers.